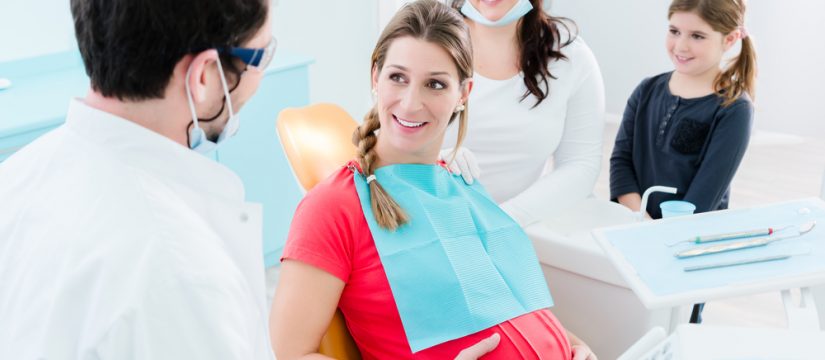 Minor dental procedures like dental fillings and cleaning are safe to perform during pregnancy if said pregnancy is healthy without any complications. These procedures are usually recommended for the second or third trimester. However, if the pregnancy is difficult or the OB-GYN has not cleared the patient for this type of procedure, it's highly recommended that you postpone after delivery.
If you do need to have a dental procedure during pregnancy, it's preferred to have shorter appointments. Shorter appointments mean less time in the dental chair and that minimizes the discomfort and pressure on the lower back. However, if you experience any pain, emergency dental treatments can be performed at any stage of the pregnancy. To goal is to help the patient. But in order to avoid to have any dental procedures (big or small), we recommend that you do routine checkups and treat any problem areas prior to your pregnancy.
When breastfeeding, all dental procedures are safe and can be done, except teeth whitening. If the dental procedure requires anaesthetics, there are good local anaesthetic solutions that are both safe for the mother, and baby and don't affect the breast milk.
Even when not pregnant or breastfeeding, regular check-ups and cleanings are recommended in order to ensure good dental health. However, when pregnant and/or breastfeeding this is even more important because dental problems can seriously affect a prospective mother's (and her baby's) health.
Can I whiten my teeth while pregnant or breastfeeding?
Unfortunately, the research results on the impact teeth whitening have during pregnancy or breastfeeding are very debatable. So in order to avoid any unnecessary risk, it's best to do your teeth whitening before pregnancy or after you've stopped breastfeeding. This a non-essential and cosmetic surgery, so it can wait. On the other hand, using whitening in your toothpaste is completely harmless. The amount of whitening ingredients you will normally find your everyday toothpaste are so minimal that they don't present any serious harm to you or your baby.
Can I do dental crowns or veneers while pregnant or breastfeeding?
During pregnancy, it's highly recommended to keep the dental procedures as short as possible. This prevents discomfort to the patient when they are lying in the dental chair.  And since dental veneers or dental crowns can sometimes require long dental appointments and even more than one appointment, we at Premiere Family Dental highly recommend that you hold off doing crowns/veneers after your pregnancy.
While breastfeeding, it's completely safe to do dental crowns or veneers. However, make sure that you promptly inform your dentist that you are breastfeeding so that he/she can administer safe local anaesthetic for the procedure.
Is it safe to do implants or tooth extraction during pregnancy or breastfeeding?
If you have teeth that are decayed beyond repair, you should remove them prior to your pregnancy. This prevents unwanted bacteria from entering your bloodstream, endangering both your health and health of your baby. However, during pregnancy, you should only do painful and emergency tooth extractions. Make sure that you inform your dentist that you are pregnant so he/she could administer safe local anaesthetic. And if you want to do dental implants, it is highly recommended to have this done after your pregnancy.
Dental implants and tooth extractions are safe to be done while breastfeeding. But once again, make sure that you inform your dentist that you are breastfeeding, because of the local anaesthetic.