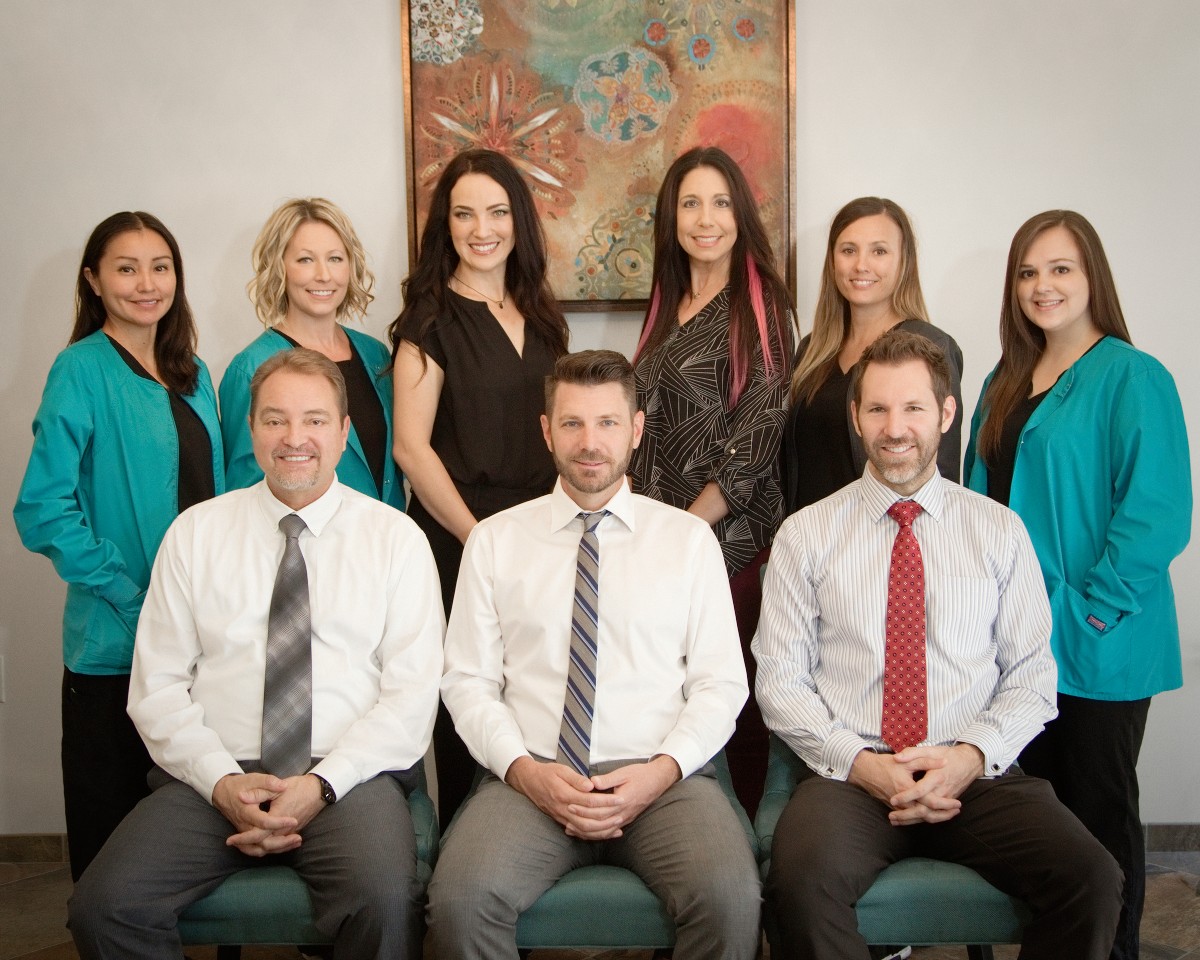 About Premier Family Dental
Over 25 years of dental experience
At Premier Family Dental, our team is our greatest asset! Nothing can be accomplished without them. We focus on patient education to help each patient understand the need for dental care, hygiene, and treatment. Our dental team enjoys building long-term relationships with our patients. We want our atmosphere to be inviting so visits aren't uncomfortable, worrisome, nor do they ever feel rushed.
A great dentistry is one that happily continues education opportunities to keep abreast of new research and changing technology so that they stay at the forefront of the dental industry. And that's exactly what we are all about here at Premier. We stay up-to-date on the latest innovations in dental technology and incorporates new techniques and equipment within our practice. We always want to be ahead of the curve to ensure every patient is getting the quality treatment they need and deserve.
It's understandable that the dentist's office might not be everyone's favorite place to visit, but we try to change that for each patient. Every mouth is sensitive and needs delicate care. We aim to handle each treatment with a gentle touch and an effort to minimize any pain and discomfort. It's easy to feel overwhelmed and a little scared when it comes to someone handling your smile, and that's why we make sure that all fears are explained and everyone's at ease with each procedure. Why let dental experiences haunt you? We're here to correct all worries and doubts and lay them to rest.
Our staff only seek to educate our patients about proper dental care as well as on the treatments suggested so that you're always in the know. We encourage our patients to develop good preventative care habits so that with each visit, we can see that smile just getting better and better. The patient should be involved in decision making for treatment, should they not? It's your mouth. So, it should come as any surprise when we give patients access to their records and explain all the options for any treatment that is needed. Premier Family Dental Care knows that the patient needs to feel in control of his or her treatment.
Dr. Eric Kerbs grew up in Draper, Utah. After completing a service mission in Osaka, Japan, he attended and graduated from the University of Utah with a BS in Medical Biology and minor in Chemistry. He then received his Doctor of Dental Surgery Degree from Virginia Commonwealth University in Richmond, Virginia. Dr. Kerbs and his wife of 15 years have two children. He enjoys spending time with family and friends and coaching little league sports.

Dr. Spring grew up in upstate New York and is a veteran of the United States Air Force.  Prior to his career in dentistry, Dr. Spring was a Federal Agent for various government agencies.  Dr. Spring has lived in New York, Mississippi, Nebraska, Virginia (while working in D.C.), Utah, Maryland and Arizona.  He is an active member of the Academy of General Dentists, the American Academy of Oral Systemic Health and the American Dental Society of Anesthesiology.  Dr. Spring performs the sedation in our practice.  Dr. Spring graduated from the prestigious University of Maryland Baltimore College of Dental Surgery.

Dr. Spring relates on many levels to his patients given his eclectic background and experiences and his broad knowledge base. Dr. Spring enjoys reading, current events, guitars, scuba diving and traveling, to name just a few.

Dr. Spring has two daughters and enjoys spending time with his family.

Originally from southeastern Idaho, Dr. Birch started his career with a Bachelor of Science degree in Psychology from Arizona State University. He earned dental credentials from Nova Southeastern University College of Dental Medicine in Fort Lauderdale, Florida.

Dr. Birch has been in private practice in the Ahwatukee area since 1998, but he has never stopped growing his dental knowledge. He has received advanced training in Invisalign orthodontics, CEREC restorations, and endodontics.

Known for natural artistry and meticulous attention to detail, Dr. Birch delivers that level of care with warmth and compassion. He is fluent in both Spanish and English, putting all patients at ease.

Dr. Birch is a talented pianist and overall musician, who has played for more than 25 years. He greatly enjoys spending time with his two children and family, and is an avid snowboarder.

Introducing Premier Family Dental Care's amazing new Hygienist, Charlotte Harper! Char has been in the dental field since 1997 and has been a Hygienist since 2007. She loves spending time with her adorable family and prides herself on always making the patient the priority in both their health and their experience here at Premier.

Introducing Premier Family Dental's new Practice Manager, Jamie Kovach! Jamie has 20 years of experience in Dental Office management and prides herself on making sure you receive the best care possible here at Premier Family Dental. She loves to spend time with her Hubby and their 6 children exploring all that Arizona has to offer. Welcome, Jamie!

Kim

Lead Dental Assistant

Michelle

Patient Care Coordinator

Introducing Michelle Cutler, Premier Family Dental's new Patient Care Coordinator! Michelle has been in the dental field for over ten years. She enjoys spending time with her family and her furry babies! Michelle works very hard to make sure that you have the best dental experience while you are here in the office! Welcome, Michelle!